Our Autumnal Years: Coming Back Home
Eliza Yong, Psy.D., Jayan Warrier, Psy.D. and William Bergquist, Ph.D.
[Note: This is an edited excerpt from
Awakening Spring in Autumn
, by Eliza Yong, Jayan Warrier and William Bergquist. The full printed book can be purchased by accessing the following link:  
Awakening Spring in Autumn | The Professional School of Psychology]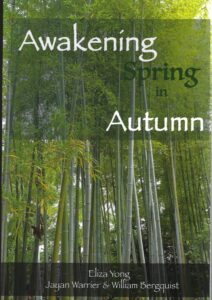 We face many important challenges during the Autumnal years of our (the years of late middle age: 55-70). We find a profound, unrelenting, regret. We have learned that a failure to recognize what is actually happening in our world and a failure to learn and correct our actions producing a state of remorse that never leaves our heart or soul. We have also learned something about home and life purposes. We have learned that "home" might no longer be a true home for us at a later point in our life. We are striving for the wrong thing—and may come to realize that this is the case too late in our life. There is no return to a former state of affairs. The old home no longer can accommodate our life purpose and our relationships with significant other people in our life. There is a wishing for return to a former time and place. But this can never happen. In the words of the noted American author, Thomas Wolfe, "we can never go home again.".
How then do we learn and take actions during our Autumnal years in a manner that produces something other than regret? How do we find our true Autumnal home? It often takes a direct, irrefutable physical event to get our attention. We lose our job; our spouse leaves us; we survive a heart attack; we file for bankruptcy. To what extent do we set up conditions so that they reach a critical stage? Is this the way in which we finally pay attention? Is this the only way to learn and discover our outdated or false home? Doesn't this reliance on a crisis to change our ways lead inevitably to regret?
Many of us have been accustomed to serving for many years as "crisis managers" and "fire-fighters" in our own family or in our organization. We sometimes collude in starting or at least fuelling the fire because we are great at (and in some ways get a charge out of) managing the crisis and putting out the fire. To what extent do we do the same thing in our own personal life? To what extent do we only pay attention when our house is on fire? To what extent do we get "charged up" by the crises in our personal lives, ignoring other issues until they reach crisis proportion? This essay is about the old and the new. It is about finding our Autumnal home and about coming to terms with our past actions and the resultant regret.
Attachments