The New Johari Window #2: Models of Interpersonal Awareness
Protected Rather than Hidden Self
I also tinker a bit with Luft's labeling and description of the third quadrant. We are never really "hidden" in Q3. We are "leaking" all over the place—nonverbal communication, what we do and don't say. We make assumptions, and try to "hide" these assumptions; however, through our actions we tend to provoke thoughts and actions in other people that confirm these assumptions.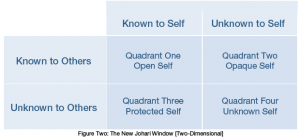 These assumptions become "self-fulfilling prophecies." We can't talk about any of this with other people and are even unlikely to reflect on these dynamics in our own minds. We are left, as a result, with what Chris Argyris and Don Schön identify as "self-sealed assumptions".  Given this leakage and these dynamics regarding self-fulfilling prophesies and self-sealed assumptions, I am inclined to call this quadrant the "protected self" rather than the "hidden self."
Given these modifications, allow me to present a first version of the New Johari Window – this model being two-dimensional like Luft and Ingram's original Window.