The New Johari Window #2: Models of Interpersonal Awareness
The double-paned Johari model suggests several powerful implications with regard to personal assumptions about internal and external sources of control–particularly with regard to interpersonal perceptions and relationships. This interpersonal model also suggests that there are many different ways to view interpersonal relationships. We can focus on the external panes or look deeply into the dynamics of the interior life of each participant in an interpersonal relationship.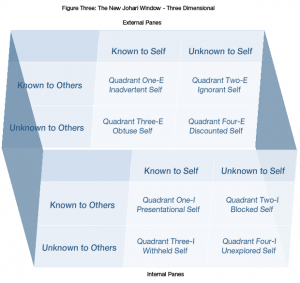 The double-paned window also points to the importance of interpersonal needs and to ways in which we express and fulfill these needs. Interpersonal needs are not simply shown to the external world. We don't simply ask or demand that these needs be met. Rather, these needs may remain "at home" (the internal panes) and may rarely or very subtly be made known outside our home (the external panes) to specific people in specific settings.
I will briefly address, in turn, each of these themes in following essays, looking first at the matter of internal and external locus of control. I will turn subsequently to three different perspectives on interpersonal relationships, and, finally, to the matter of interpersonal needs and how and when they are expressed. Each of these themes will receive much more extensive attention throughout these essays, as we begin to systematically address each of the four quadrants of the New Johari Window.
_______________
Following are other posted essays in this series on the New Johari Window:
Essay #1: Beginning the Journey
Essay $4: Three Perspectives on Human Relationships