The New Johari Window #2: Models of Interpersonal Awareness
The original model helped to clarify changes in awareness and openness as well as changes in tension, defensiveness, and hostility. Certain universal questions were addressed through the model—questions about the effect of unknowns on human interaction, trust, levels of miscommunication, ancient and primitive leadership patterns, and appropriate disclosure of self.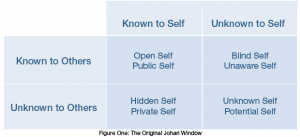 The original book was written with two purposes in mind. These same two purposes hold true for the new version of the Johari model of human interaction.  The first purpose is to develop basic issues about human interaction with the aid of this model. The second purpose is to illuminate interpersonal learning and the process of learning-to-learn through use of the model. The meaning of observation and of feedback, for example, is considered in order to show how learning about behavior can be conceptualized. Attention is also given to some of the special qualities and problems in interpersonal and group dynamics training programs—often called T-groups, human relations laboratory groups, sensitivity groups, or encounter groups.  The two purposes often overlap since questions of learning and important issues such as trust and leadership closely interrelate.