THE POWER OF IMAGINATION, INTENTION AND FLOW IN THE FUTURE OF BUSINESS
"That's what I want for my children and many others in the world who see virtue and magic in it. I see this way of thinking as one way of enabling far greater balance in business and life between linear thinking and nature based artistic creativity." – Charles E. Smith, Ph.D.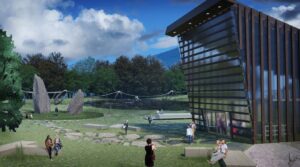 Illustration by Nicolas Lachance-Brais, Concept Artist
Letter to My Son
July 27, 2021
Dear Thomas,
I am writing to you because I care about your future and I want you to grow up in a brighter world that would promote the values of respect, kindness and empathy, in which human beings would unite and collaborate using imagination, intention and flow to create new possibilities, while working and living in harmony and balance with nature. This is my dream for you and for future generations. This is the legacy I hope to leave behind.
Attachments