The Work and Life of Women: The Dynamics of Individualism and Power
[Note: This essay builds on work that was published in Rosalind Sun and William Bergquist, The Word for World is Work. This book can be purchased by clicking on the following link: The Word for World is Work: The Life of Women | The Professional School of Psychology]
With my colleague, Rosalind Sun, I have recently written a book about women for whom their entire world is enmeshed in work (Sun and Bergquist, 2021). This essay provides my own reflections on the insights Rosalind and I have gained from the investigations underlying this book. Specifically, the matter of control over the work and life of these women concerns something more than the economic basis of the society where one resides. It also concerns a cultural bias toward individualism rather than collectivism. When one lives and works in a society that emphasizes individual responsibility and control over one's own destiny, then the matter of internal and external control becomes quite complex—often leading to either contradictory or frequently shifting perspectives regarding the character of one's work and life.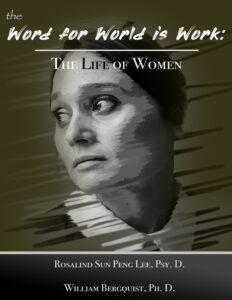 If we are citizens of a society that is highly individualistic, we should have immediate and continuing control over our own individual life. After all, internal control is supposed to be a foundational piece of individualism. Yet, we don't always (or even often) have control over our work and life. The safeguards to be found in a collectivist society are absent in an individualist society. Without collective responsibility, the forces of external control are likely to be strong and more powerful than the rather hazy and often flimsy platitudes about individual rights and declarations of freedom.
Individualism Reconsidered
I suggest that the interplay between individualism and locus of control is even more complex and the impact of individualism on the women we studied is even more elusive. First, as the noted sociologist David Riesman has observed, the status and dynamics of individualism is not readily captured in a simple statement of support or condemnation. In his essay on Individualism Reconsidered (Riesman, 1954), Riesman turns to his earlier distinction between inner-directed and out-directed orientations to society (Riesman, 1950). He suggests that many of the leaders of industry (particularly in the United States) during the early years of the industrial revolution were inner-directed. Their personal values helped to guide the ways in which they did business. While making money (capitalism) was the focus of their business decisions, they also (according to Riesman) possessed a moral compass that restrained their endeavors: "they were guided by internalized goals and ideals . . . And since the ideals that were internalized included many vestiges of older traditions, they were frequently paternalistic men, who, despite nominal belief in free enterprise, helped ameliorate the worst abuses brought about by their innovations." (Riesman, 1954, pp. 13-14).
Attachments